I paid with Paypro Global, and the payment didn't arrive
I was asked to provide an ID, but I paid via a verified PayPal account!
Having a verified PayPal account does not mean your funds are safe or that no one can steal your identity.

Imagine this:
1. Your PC gets infected with a virus that sends your browser logins and password to an attacker's server.
2. The attacker logs in to your email and PayPal account.
3. The attacker makes purchases with your PayPal funds and immediately removes all notifications coming to your email box.
4. The attacker doesn't really have to drop the victim's access to this email box – they can use it together for a long time.

This scheme might work for months, and the owners may only notice it when they request their credit card statement and see numerous PayPal charges.

If we don't verify our clients, we start receiving fraudulent payments almost immediately. Which we, by the way, must return using our own money because our workers have to get paid whatever the case. This is why we're better off losing clients than dealing with dirty money.

What DOES NOT prove PayPal account ownership?
- Emails sent from postbox linked to PayPal account.
- PayPal account screenshot

What DOES prove PayPal account ownership?
- Any government-issued ID.
Discounts
Our system provides automated discounts for accounts that reach a specific daily upload volume.
To see current discount prices, go to the
Dashboard
and add a "Discounts" widget. Select your type of captchas, and you'll see the prices.
Contact us via tickets if you are not satisfied with numbers and your volumes are higher than 100k per day.
I've sent Bitcoins, but they are still not on my account
Our system accepts Bitcoin transactions after 2 network confirmations. This may take some time, from 5 minutes to 1 month, depending on the transaction fee you've set.
Usually, if you want to speed up processing, you can set a higher commission rate per transfer in your Bitcoin app.
Important
To check how many confirmations your transaction has, go to any website that supports transaction search, like https://live.blockcypher.com/btc/ or https://blockchain.info , copy and paste your transaction ID there (a very long string with random numbers) and check how many confirmations it has.
If you have something like this there, then your transaction is not yet confirmed.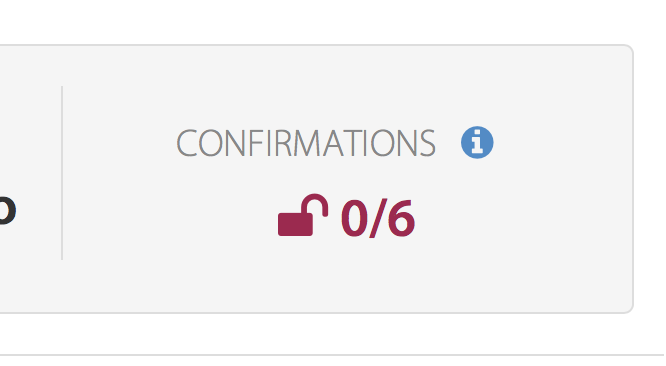 Note that we are unable to increase transaction speed. Don't ask us to fund transactions without confirmations. Such transactions can easily be canceled at the source wallet!
If you want speed and almost immediate confirmation, use Ethereum or Litecoin as your cryptocurrency for daily payments. Bitcoin is intended for storing and transferring significant amounts of funds, but not for daily use.
If you still feel that something wrong happened on our side, please fill out the ticket form. But before you do, please check the transaction status yourself.
Open a ticket
I've made a payment and it's missing from my account
If you paid with PayPal direct and didn't get your code: check all the emails you have in your PayPal account for top-up vouchers.
If you paid with PayPro Global, fill out another form please -> type "paypro" in the search field near the battery icon.
For all other cases, please complete this form as accurately as possible so that we can help you out.
Open a ticket
I didn't receive a coupon code after purchasing from a reseller
Please contact the reseller you purchased the coupon from. They are responsible for accepting payments and issuing coupons.
You can find the contacts by navigating to their website from the
Resellers
section.
I want to transfer funds to another account
The Transfer option is located on the Finance menu.

If you see a message saying transfer is impossible for some reason, it also applies to your account. For example, we don't allow the transfer of funds that are deposited via credit cards. We impose these restrictions for a variety of reasons. We can lift this limitation only for accounts with a well-established spending and payment history of more than 1 year.

If you were paying with cryptocurrency, you'll have to return your bonuses first. This requirement is in place to prevent bonus fraud.

Please don't ask us to transfer your funds manually – we don't do that.
How much do captchas cost?
Normal prices without discounts:
Image captchas: $0.5-0.7 per 1000 captchas (That's $0.0005 per captcha, Joe).
Recaptchas v2 : $1.5-2 per 1000
Recaptchas v3 : $1-2 per 1000 depending on score
Recaptchas v2 Enterprise : $5 per 1000
Recaptchas v3 Enterprise : $1-2 per 1000 depending on score
hCaptcha : $2.5 per 1000
Funcaptcha: $2.5 per 1000
GeeTest: $1.5-2 per 1000
Discounts are dynamic and depend on your daily volumes. To view your accounts, you need to add a widget named "discounts" to your
dashboard
.
How do I pay with Bitcoin if I only have a credit card?
You can find numerous exchange services by googling "fiat cryptocurrency exchange." Good examples:
1.
Coinbase
website,
Android
and
iOS
apps.
2.
eToro
website,
Android
and
iOS
apps.
3.
Coinmama
.
They all accept cards and bank wires.
Full instructions describing how to buy and use cryptocurrency are available
here
.
Does my balance expire over time?
No, it doesn't, don't worry. And there are no recurring charges. You only pay for what you upload.
I've been asked to return my bonuses. Why is that?
When you top up your balance with Bitcoins, we add 10% on top of that as a bonus.
For example, you pay 100 USD, we give 10 USD, and your balance becomes 110 USD.

The reason you need to return the bonus when you do top-ups with reseller coupons is that coupons are sold to the reseller at a discount.

When you want to withdraw/transfer funds, you have to return this 10 USD bonus. If we didn't set up a scheme like this, anyone could top up their balance with 100 USD, get the 10 USD bonus and withdraw 110 USD.

The option to return the bonus appears when you select finance->transfer or finance->withdraw in the menu.
What are "Loans"? My loans are not working.
Loans is a feature that works automatically and independently. It calculates your account profit for the system and evaluates the probability of any abuse of the loans feature.
The system is not obliged to give loans, so it works as is. If you have this feature, the calculations are on your side, and the system trusts you. If not, sorry about that.

Please don't contact us to ask for a loan.
Please don't contact us to ask questions about why loans don't work in your account.
Please don't contact us to ask how they work.
Do you work with companies?
Yes, we do.
1. You can pay as a company via PayProGlobal or OCRDataSolutions. These payment providers are able to generate invoices for each payments. OCRDataSolutions are also able to accept SEPA/SWIFT payments,
contact
them directly if you're interested.
2. Our system is also generating monthly invoices with totaling captcha spendings and payments. If you're interested in invoices, please search for "invoice" in FAQ.
3. If you paid as a company and your first payment amount is above certain limit, you'll be asked for KYC verification. Nothing to worry about here, just upload a company registration certificate or similar document from your country.
How fast are withdrawals?
Your withdrawal order will be processed within 72 hours. Please be patient, we review them manually.
Demo credit isn't working
This feature is fully automated and works "as is."
If it doesn't give you a credit, it won't and shouldn't. We keep tuning it to avoid abusers.
If you didn't receive an SMS, please don't ask us to resend it.

Please don't ask us to fix it your way.
Can I get an invoice?
This feature is only available for users who registered after September 2019.
Invoices are generated on the 10th day of each month for the period of the previous month. You can edit the person or company this invoice is made out to. You may put as many details in the "billed to" section, including you address, VAT, etc.
Each invoice contains spendings and payments for the previous month. See
an example
of such invoice and
a screenshot
of the personal area where you edit your details..
You can find invoices in
transactions history
. If you don't see anything yet, then it's too early. Wait until the 10th day of next month. We generate them on 10th day because some time required to settle down all payments for the previous month, process all refund requests and so on.
For example, you made a payment on 2nd of August, this payment will be available in an invoice generated on 10th of September.
Your account must be active in order to start generating invoices. It means you have to spend captchas each month.